FEATURES
The horizontal decoiler has been designed to be loaded with two to ten coils by pallet, depending upon their width.
A sliding device upon which a swivelling roller is mounted around which the strip passes before entering the feeder provides automatic synchronization of thr strip decoiler speed (from 0 to 20 RPM) speed variation is made by an inverter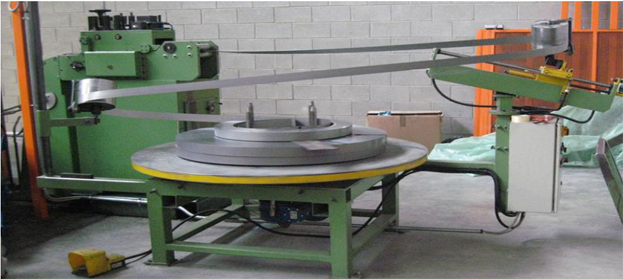 Main frame in electric steel.
Table with cam disc in steel.
Capacity from 600-5000 kg.
Height of strip table 500mm.
Loop control by analogic sensor.
Motor A.C.
Dimensions mm

Model HMD
Capacity
kg
Strip Width
(mm)
Outside
(mm)
RPM
Motor
KW
D
mm
H
mm
L
mm
P
mm
T
mm
1 T
1000
150
1000
0-25
1.1
1300
1710
800
600
2000
2T
2000
150
1300
0-25
2.2
1500
1760
1000
670
2200